24th Jul 2015 | Posted by Feltman Brothers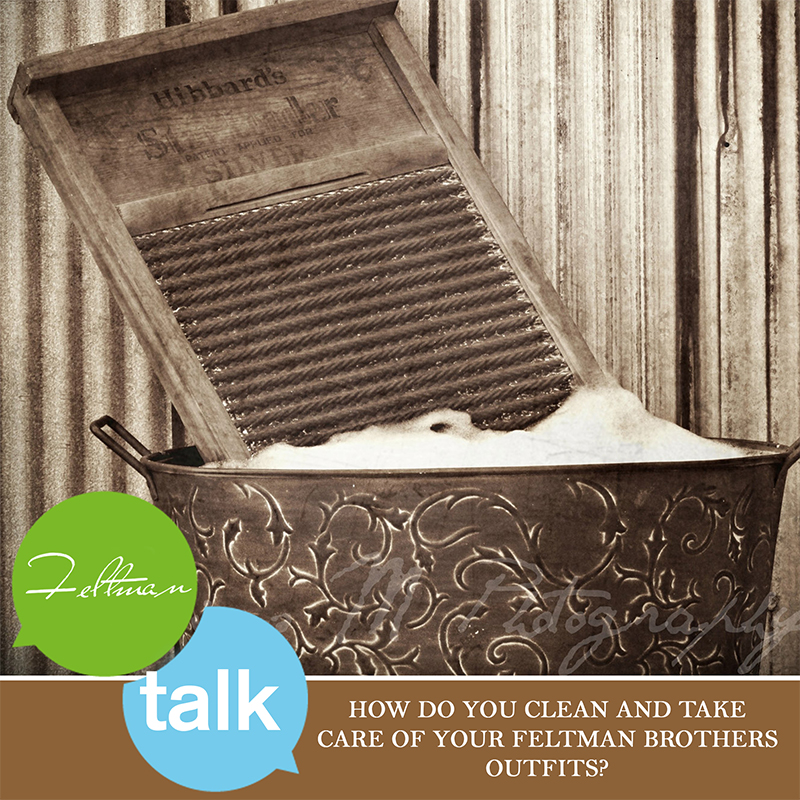 We're back with more Feltman Talk!
How do you clean and take care of your Feltman Brothers outfits?
Tell us below for a chance to win an accessory of your choice!
Hop over to our Facebook & Instagram pages to enter!
Here are some answers from our customers:
Disclaimer: Please note these suggestions are from customers, we take no responsibility for the outcome.
I wash them on gentle cycle with baby Dreft and air dry. I then iron them on a low setting. Love our Feltman Bros outfits!!
Hand wash....for normal washing. But after my son's have out grow the outfit's. Had them dry clean.....air them out for 3 day's then , they are placed into vacuum seal storage bag's. We have one outfit going back for 40 year's.
Bring them to the cleaner's!
Hand wash them !!!!!!! Press if needed which you don't if you wash correctly !!! Love love with care !!!!!
Machine wash, delicate cycle. Dry for a few minutes low heat and then hang to dry.
I take mine to the cleaners lol I don't take the chance of messing up heirlooms!! When they aren't being worn they are hung in my closet draped in plastic and then once my kids outgrow them I place them in air tight bags in a Rubbermaid container.
Hand wash with Nellie's all natural laundry soda (soak if stains require), lay flat to dry and press when necessary. MaMere and Mawmaw help a lot!
Mashing wash cold water in All free and clear..hang dry..then when dry put in dryer with free and clear unscented dryer sheets to soften up a bit..
Machine wash on delicate cycle shout for any stain! Air dry flat!
I wash on delicate or hand wash, then air dry. My daughter wore my 35 year old Feltman bro slip dress home from the hospital. My son wore my brothers 34 year old feltman bro belter creeper home from the hospital. Both of them were white but had yellowed over the years. I had them cleaned and the elastic redone at our local cleaners that is well known for restoring and preserving wedding dresses.
Hand wash cycle in washer and then hang to dry. My little boy wore a 67 yr old Feldman outfit home from the hospital and it was in perfect condition!
What I love about Feltman clothes is that they are meant to be worn! I always washed in my washing machine and dried in my dryer and no ironing is necessary. Both my daughters wore their dresses daily not just for special occasions and these same dresses have been worn by their daughters! Advice to young mothers : Dress your babies like they are going to a party everday because they will outgrow their Feltman clothing too fast. ...and the clothes are quality made and will last.
I just purchased a vintage christening gown with slip at an estate sale. I was told it is approximately 60-70 years old. It was yellowed with brown spots. I washed it by hand in Dreft and hung it in the sun to dry. The brown spots were lighter, but still there. I started treating them with a solution of 50% hydrogen peroxide and 50% water. The dress is now bright white and the stains are gone!!
My mom and hand washed our Feltman Brothers outfits with Ivory Soap. Rub the garment down with a bar of Ivory soap. Gently lather with warm water. Rinse with cold water. Hang dry. She still uses it on my brothers white baseball pants and they come clean!
I am due in October and my mom got out some of brothers' old Feltman Brothers gowns. One had some yellowing around the collar and the Ivory Soap technique made it look new again!
We got our very first Feltman Brothers dress for our first daughter just recently and so far I've been washing it in the hand wash cycle and hanging it to dry.
Had a vintage Feltman that was slightly yellowed and soaked it in warm bath tub with oxyclean! Looks brand new.
Hand wash, hang to dry. Soak in Oxyclean overnight for any stains. All my dresses still look brand new!